Dear Followers, Friends, Family, Book Bro´s and everyone else I forgot to mention,
For those of you who aren´t suffering from a major hangover….
I wish you all the best for 2019! May the new year bring you lots of love, joy, happiness and success!
For those who are currently wasting away from a huge hangover… Go back to bed. You ain´t no help at the moment.
It´s the start of 2019, people. Can you believe it? 2018 is finally history.
I can´t say I´m too sad 2018 is behind us. To be perfectly honest – I´m more than happy to enter the new year. 2018 was challenging ( and that´s putting it nicely ). Countless colds, nagging teachers, pointless discussions with helicopter parents, surviving the heat wave… I am literally pooped.
I wasn´t able to reach my bookish goals, either. All the challenges I´ve started turned out great and quickly morphed into a terrible idea.
But not all was worthless. Along my path of constant failure I managed to meet new book bloggers and even find new awesome blogs to stalk. So, with that being said…. I think it´s definitely okay to flip 2018 off and welcome the new year with open arms.
Oh yes. I´m ready. I´m more than ready. I´m already at the starting line just waiting to sprint towards my new projects. As for book goals – I don´t have any for this year. Since I´m so good at setting goals and reaching them I thought it would be a much better idea to remain in the horizontal position more often than try to reach half hearted goals.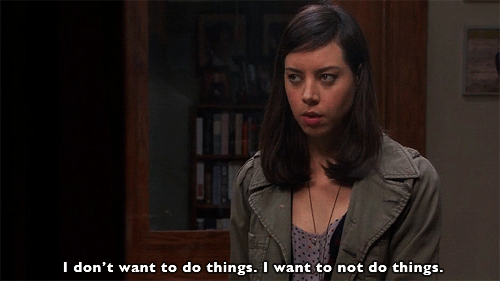 So, if I don´t have goals then what will my purpose be for 2019? I´ll enlighten you.
I plan to do exactly too much of everything and a lot of nothing. It´ll be chaotic. It´ll be a bookish anarchy. And I´ll love every minute of it. I´ll do the unexpected and go against the grain and all. But first… I´m going to catch up on some sleep. I have no new year resolutions. My only hope is that I´ll survive 2019 and not end up gaining wrinkles.
There ya have it.
Tell me: Do you have any bookish goals for 2019? What should 2019 look like for you? Let´s chat. ❤
I hope you all have a wonderful day.
Share the book love.
yours truly,