I´m so not sure if this is something that´ll give me a good night´s rest or if it will haunt me because I found the energy to reveal my `fears`.
I can´t even say I´m squirmish or am even pulled out of my comfort zone in general. Most of the time I face challenges with excitement. But when it comes to books I´m uber careful NOT to step too close to the border of my comfort zone. Because books have a weird effect on me sometimes and that leaves me avoiding certain books / genres like the pest.
A huge thank you goes out to Norrie@ Reading Under The Blankie for tagging me to do the Out Of My Comfort Zone tag. Thanks, girl. I shall do my best to feel uncomfortable in this one. ❤
So, how does this work?
You have to pick one genre that you frequently read … and then, you can't use any books from that genre while answering the questions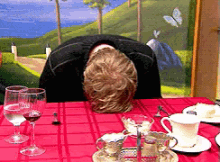 ---
#1 A book that is an exception when it comes to genres or elements you don't typically like
I´m not a fan of Dystopian books. I´ve read my fair share but can´t seem to warm up to the genre unless it has elements I´m drawn to. `Thicker Than Blood`by Madeline Sheehan and Claire C. Riley is an exception, though. Thicker Than Blood is for me more of a survival read than an actual dystopian. And since I´m a huge fan of anything that involves survival ( Zombie apocalypse, out in the wild, etc ) I forgave the fact that Thicker Than Blood is a dystopian. Review here.
#2 A book you enjoyed from a genre you previously held some stigma against
Medical or health books are an absolute no – go for me. I lean towards being a hypochondriac. Health / medical books are ( next to Google ) my #1 enemy when I have something as simple as a cut that magically appeared on my toe. I´m regularly teased on WhatsApp with gifs and videos for being a hypochondriac. Which is fine. It´s hilarious. But then I caught the husbutt reading `Gut: The Inside Story Of Our Body´s Most Underrated Organ ` by Giulia Enders.
Here´s the thing: Husbutt never reads. He started his current read 4 years ago and is now on page 44 ( I still have hope ). But he flew through `Gut`within no time and loved it. Said it was totally cool, highly informative and just… interesting. I gave it a go with a I´ll – Hate – This – One attitude and ended up sharing the husbutt´s opinion. `Gut`is hypochondriac approved!
#3 A book you didn't know was out of your comfort zone until you started reading it
Hands down- `The Claiming Of Sleeping Beauty` by Anne Rice is one of those uncomfortable surprise reads. This piece of work was recommended to me by a friend of a friend who I met at a party who also happened to be a fan of controversial books. He said it was controversial and I, as gullible as I sometimes am, thought I was getting a sweet retelling of Sleeping Beauty. Fuck the sweet retelling. I got a full blown pornographic novel of porn. * falls off sofa from laughter *
This happened quite a few years before the 50 Shades hype existed. Thanks to The Claiming Of Sleeping Beauty I was properly prepared for the BDSM onslaught we have now in erotica novels.
#4 Pick a friend who motivates you to pick up books you might not normally be interested in—is there a book they convinced you to give a try?
My friends don´t like recommending books to me because they fear I´ll get technical and analyze their recommended books. I´m the person who does the "Everything Wrong With…." when it comes to recommended books. I know. I´m evil. But hey…. It´s a passion. Feed the hungry artist´s mind!
#5 A book that is out of your comfort zone, but you would like to read
`Lolita`by Vladimir Nabokov. I know what the story´s about. I´ve watched the movies  ( and even enjoyed them ) but I´ve never read the book. I admit, it´s a little out of my comfort zone because I NOW have a problem separating reality from fiction. The fact that I have an 11 year old at home is giving me a mind fuck. I´ll have to wait until my daughter is in her 20´s to be ready to read this one.
#6 A book or genre so outside of your comfort zone that you'll probably never give a chance
The Holy Bible. I just can´t cope with a book that´s been used, abused and misinterpreted so severely that it´s not even funny anymore. I refuse to read a book that has hardly brought any good for as long as it´s been around. I´m sure it´s a lovely read but since many take everything in this book seriously and often act out these beliefs in a harmful – towards – humanity way I will kindly decline.
Let´s see what these ladies have to say:
Shalini´s Books & Reviews    ♦    Of All The Books In All The Libraries    ♦    The Cozy Pages
Thank you for reading. I hope you have an awesome bookish day!