There comes a time when change is needed. Not only for the purpose of keeping up with the year / decade / century but also because change is a much-needed process we all have to go through. The change I´m talking about is a personal change. It´s actually a first world problem if you don´t see it from my point of view.
Bah. My blog needs a makeover. It´s boring the shippy dippy out of me. White with white and maybe a contrast speck here and a nuance darker there. It´s driving me bananas, to be honest.
Although, I picked the theme and the colors because I thought everything together represented me to the T. I don´t have much color in my life ( this is not a metaphor for some deep-rooted issue I have. I mean- I might have a deep-rooted issue but I´m waiting to deal with that when I´m 80+ years old ). When I say I don´t have much color in my life I´m telling you that there is literally not much color around me. Like, at all. Every color is subtle. It´s either black, gray or white for me.
I´m either a brooding emo or the sun is shining out from my behind. That´s how you can imagine what my house looks like.
So, to give my blog a makeover is somewhat difficult. What should I do? What colors do I pick? What about feathers, arrows, antlers, flowers? Should I go for something bold and sophisticated or maybe add something girly like hearts and… more hearts? Glitter and rainbows? How about unicorns? Do I even go for something trendy or stick with something timeless? I´m not even sure why I´m putting so much thought into this subject.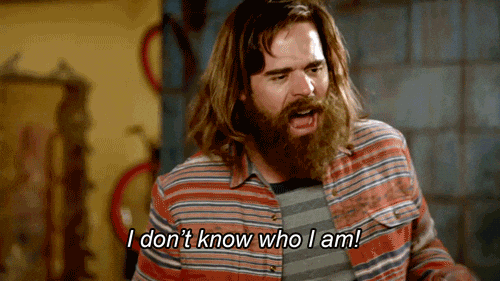 Pardon the overly dramatic gif. I felt a dramatic moment creep up but it´s gone now.
So, I´ve decided to go age appropriate with a nice feminine touch. I´ve also decided, the theme and colors are staying… for now. I can´t stomach too much change at once that´s why I´m going to ease my way into this blog makeover at a snail's pace.
Some of you might have already noticed the changes. Some of you probably haven´t. What a great way to enlighten you now!
Alas…. I present… the mini blog makeover in progress.
---
The Rating Stars
A disliked system to rate books ( so I´ve noticed and been told ) but I love it and can´t imagine my reviews without them. Star ratings make my life easier and hopefully other lives as well.
                                                

 Old
 New
Book Synopsis & My Thoughts
This is something I feel that is important to add to reviews because…. Well, what´s the point of a review if I don´t share my thoughts, am I right?   So, to highlight the synopsis and my thoughts I decided to separate them and add a nice graphic to help readers understand which is what ( because you just never know who get´s confused, you know?)
Old
New
The Signature
This is just a fun feature I decided to include because typing my name on the bottom of every post looked a tad sad and dull. Not sure if my name looks all too spiffy in a graphic, either, but it definitely lightens up the picture.
---
Another change some of you may have noticed would be my added  `Before & After Review feature. This is a whole new kind of review world for me and it´s fun. Time consuming but still a joy. To reread older books and write what I thought 10 years ago and compare that to my 10 years later opinion.
Also, I thought it would be a little helpful to stick to a short, 4 day, weekly theme to not overwhelm myself or get confused ( because, old lady here, remember? )
Monday – Mug Monday & Bookish Talk
Tuesday – Review Day
Wednesday – Meme / personal book related discoveries, fun stuff
Thursday – Discussion posts / rants
Friday – Optional for tags or other extremely fun stuff
Saturday – Day off
Sunday – Day off
On the first of every month I´ll upload a Reading List and every last day of each month I´ll admit my failure of reaching my reading goals for the month.
So, this is going to be a taking baby steps changing process. Hopefully before 2018 ends I´ll have the blog makeover done and ready. Oh, and…. I went for the feathers and flowers ( in case you haven´t noticed ).
Thank you all so much for reading my overly exciting blog post about my insignificant blog decoration issues. It means the world to me that you even stopped to look.
Until next time, my dear bookish Padawans,
---
---