Readers are dreamers.
We dream about the great stories we´ve read and the ones that have yet to be written. We dream about the adventures we´ll probably never go on and the places we long to visit.
And then we dream some more.
We imagine ourselves locked in a bookstore and smelling and feeling all the books we´d love to have. We dream of having our own personal library filled with all sorts of printed treasures.
But that´s just the problem. For most of us readers – our dreams remain dreams.
That is, unless someday we turn into Disney´s Belle.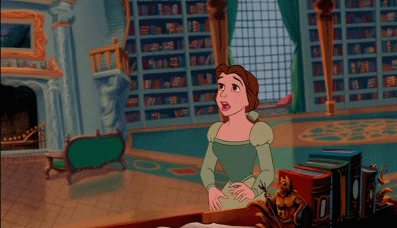 That´s fancy day dreaming for you. Or, should I say – for us readers.
Since we can´t be Belle from Beauty and the Beast and we also can´t live in a bookstore or library ( although, I believe it should be allowed to have sleepovers in bookstores ), us normal foot folk opt for something that´s more realistic. Something that comes close to a library or a bookstore for readers.
Reading nooks.
Reading nooks are a readers own little private reading spaces where we can curl up with a good book and surround ourselves with all sorts of coziness and… books!
Okay. Okay. Reading nooks aren´t the Bodleian library and they´re certainly not our favorite bookshops. But they´re cute. They´re costumized and they belong to us! A huge bonus about book nooks are: they´re at home. Readers can get comfortable in lounge wear and just plop down with a nice cup of tea / cocoa / coffee and don´t have to worry about having to put a book down when nature calls. That, alone, beats everything else!
So, why don´t us readers all have a book nook? And, why don´t I have one? Clearly, they´re not that hard to set up. And thankfully, the internet is filled with beautiful book nook inspirations for us to copy and transform our reading nook – less rooms into stunning Pinterest worthy reading heavens!
Alas. Here are the 10 most dreamy reading nooks that will have a readers heart beating wildly!
Simple Style
Not particularly child friendly ( unless for teenagers ) with the white and beige but still a cute eye catcher.
Am I the only one who can visualize the future chocolate smears all over that nook?
The Wooden Dream
A rustic niche with floor to ceiling wood work. This reading nook gives off a super cozy vibe with it´s soft lighting. All that´s missing is a miniature fireplace.
Reading Nook / Floor
Wide, open space with a beautiful view outside. Books left and right with a built-in bench and a ladder. 
It´s definitely the ladder that does it for me.
A Feminine Reading Nook
Women don´t need a library. We need a tiny corner, a bookshelf and a cushioned seat placed between windows. I can literally feel the coziness just by looking at that chair. Very lovely and homey.
A Small Person´s Nightmare
Or perhaps a small person´s dream? Thank goodness for the little footstep or else anything below 5`2 would never be able to enjoy this charming piece of reading heaven.
A definite winner for me: the extra lighting.
A Door-slide Entrance
It doesn´t get any simpler than with this plain yet stunning reading nook. 2 over – door book shelves, 2 shabby chic slide doors and a fluffy white heaven on the other side. Do readers need anything else? Well, maybe more bookshelves…..
Personally, if that belonged to me then I´d never leave the house.
An Invitation To Relax
The wooden frame gives this spacious reading nook it´s magical appearance. Pros: A reader has room to stretch and can take full advantage of the natural light from the windows. Con: The lamp.
When you have space to move you can get into more comfortable positions and easy fall asleep. A never ending beautiful book battle.
Old School Reading Nook
This definitely looks like something I´d find at my parent´s house. Comforting and functional with drapes. 
A Bohemian Fort
Super simple. Super stylish. Super inexpensive. This beautiful reading nook shows you don´t need to have a picture perfect reading nook.
My personal favorite. I might never be able to stand again but if that´s the price I´d have pay for being able to read in this beautiful piece of artful mess then so be it.
Functional Perfection
Rumor has it that we spend 1.5 years of our lives in the bathroom.The average person goes 6 times a day! An avid reader reads as much as they can.  The damage this book nook / book toilet nook is able to do….. Readers might suffer from having a permanent ring on their backsides.
I don´t care what negative opinions people have over this. There´s no ignoring the fact that this person is a genius. Whoever came up with this brilliant idea needs to be given a hug. Books and a toilet. What more can a reader ask for? A dream come true.
Thank you for checking out the 10 dreamy reading nooks!
Which reading nook is your favorite? Let´s chat about book nooks. 
Much love,
Morgana ❤