It´s time to reveal the top 9 most irritating things about new adult novels.
But why New Adult? Why not chick – lit or just plain and simple romance? Because romance is a broad genre. If I want to criticize the romance genre I´d be busy for weeks trying to pinpoint what exactly it is that´s bothering me and possibly other readers.
Sure, there are plenty of annoying things about other genres ( especially with Young Adult, Mature Adult, etc ) and I will definitely tackle those points in the near / far future. For now, though,  New Adult is on the menu.
Over the years I´ve been blessed with great NA reads and less great NA novels. But no matter how good or awful I thought the NA book was… They all felt very alike. They all somehow have the same irritating patterns, which is A.N.N.O.Y.I.N.G.
Here are the 9 irritating things about New Adult Books.
THE CHARACTERS ARE ALL WELL OFF
I have yet to read about some poor sucker who struggles financially.  They all have cars. They all have a roof over their heads and a bed to sleep in. They never seem to worry about how they´re going to pay next months rent or how they´re going to feed themselves until next pay-day. I´m not talking about college students.
BLINDING BEAUTY
"He was like a model from the GQ." "He looked like a greek God."
"She has thick, long wavy hair." "Her eyes were the color of honey/the sea/the sky / chocolate."
Immaculate skin. Beautiful orbs. Professional messy hair. Great style.
Since when have authors decided to create perfect characters when the world is clearly filled with all sorts of imperfect beauty? A guy with a crooked nose / tooth? That can be just as sexy as the sex God with the 8 – pack from down the road. And what about women with short hair? Big feet? A tooth gap? I´m just saying….
NO ONE SEEMS TO NEED GAS
Book characters sometimes ( if only rarely ) go grocery shopping. They even order takeout. They do all sorts of normal activities, such as driving aimlessly around town in their cars to "clear their minds" , but getting gas doesn´t belong to those day – to – day life activities. It´s as if their cars only run on love and air.
Or, maybe I got it all wrong and the characters went to the gas station before the book started. Yeah, maybe…..
No.
THEY HAVE MORE SKELETONS IN THEIR CLOSETS THAN A DEAD BROOKLYN MAFIA BOSS 
Secrets. They all have major secrets that are explosive and can threaten and effect the happiness of EVERYONE when they´re revealed. The thing that bugs me the most is that these "secrets" aren´t really worth being called secrets. NA readers usually deal with characters that have dealt with something in college or highschool and that… that causes a character to act as if they´ve commited a deadly crime.
LOVE: THE CURE FOR ASSHOLES
This might be the most unrealistic aspect of New Adult romances. Love conquers all. Love is the answer to all physical and mental illnesses. Love can even convert an asshole character into a soft kitty. Sure, I believe in the powers of love, yada yada yada. But I don´t believe that love can change characteristics. Some of these emotionally charged characters don´t need a girlfriend with whom they can snuggle up with at night. They need therapy. Anger management. A good beating with a frying pan? All is better than having a lunatic roaming the streets.
THE CINDERELLA MOMENT
The worst. Ever.
There isn´t a NA book I´ve read where the grey mouse ( female protagonist ) doesn´t get turned into a looker by the world´s best stylist ( female protagonists BFF ). I cannot stand these make – over scenes. There´s never anything wrong with a female lead´s wardrobe or sense of style until she wants to go on a date. THEN she´s this fashion mess that needs to be caked in make – up and dressed like a Christmas tree. Why this is necessary… I have no idea. It´s annoying, though.
If I were to go on a date with a guy then he´d have no choice than to accept my jeans and t-shirt and flip-flops because there is no way I would squeeze myself in a short red number for a date. It´s a " take it or leave it, babe." situation. And the thought of letting my BFF doctor on me is horrific!! MID 20´S VIRGIN
I´m not saying this isn´t realistic because there are women who´re in their 20´s and are still happy virgins but it feels like the whole New Adult female character population are virgins. Why? WHY? Do authors believe this to be acceptable? We´re not talking Young Adults. We´re talking New Adults. It´s perfectly fine to have a female lead who´s already had her fair share of men without making her out to be the village mattress. Let the ladies shag, for crying out loud!
DRAMA 2.0
Drama is okay. In fact, I expect drama from people in their early – mid 20´s. It´s what they do. There´s not enough daily routine to provide a drama – free life so lots of things are quite dramatic for New Adults. Just don´t make characters over dramatic. That´s far from realistic and can be a turn off.
CHARACTERS HAVE MORE LIFE EXPERIENCE THAN GRANNY AT AGE 96
I 100% hate this.  I hate hate hate hate…..
Young boy with no living family deals with anger issues. Runs away for years and magically pops back into the picture at age 23 and owns half a city / state / country.
Teenage girl- Physically and mentally abused by alcoholic adoptive parents.  By the sensitive age of 22 the young woman has had 8 jobs, has lived on the streets, has had no luck with men…..  throw in an abortion and more beatings from boyfriend #5…
Again, I´m not saying that isn´t realistic. I´m sure a few mid 20 year olds have been through Hell and back but…. I just can´t.  There are too many book characters going through the same shit over and over and over again. Not every character has to have such a heavily loaded life story.
I get the message. But we´re talking about New Adult romances here. WHY go to such extremes? Because we´re just not reading about over exaggeration here. We´re reading about extreme cases. It´s okay for a character to not have been through so much in their short lives.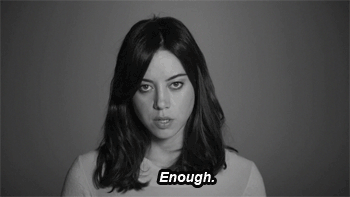 In all fairness… I understand why authors include all of the points I´ve mentioned. Many of the above work perfect for certain stories in the New Adult genre. I mean- reading allows us to forget about our own personal exhausting lives. We get to live in another world, in a different place and accompany characters on their own crappy paths and find happiness when they do. Readers are able to have moments they probably wouldn´t have in real life.
It´s an escape.
But is the escape worth it? Do we really need another New Adult romance with too much drama? Do readers need to read about characters who have it all and have experienced the worst from the absolute worst?
Yes. In my opinion… it´s worth it… to some degree. As long as there´s a healthy balance in all areas.
Tone down on the drama. Give characters some realistic features. Hell, let them have a job as a barista. Just give them something readers can relate with.
Unfortunately, many New Adult romance novels lack balance and therefore offer little readers can relate with.
What are your thoughts on New Adult romance novels? Do you agree with the list or is there anything else you´d like to include? Let me know in the comments below! 
Hope you all have a great day!
Share the book love,
Morgana ❤